Who Knew I'd Be At The Emmy Awards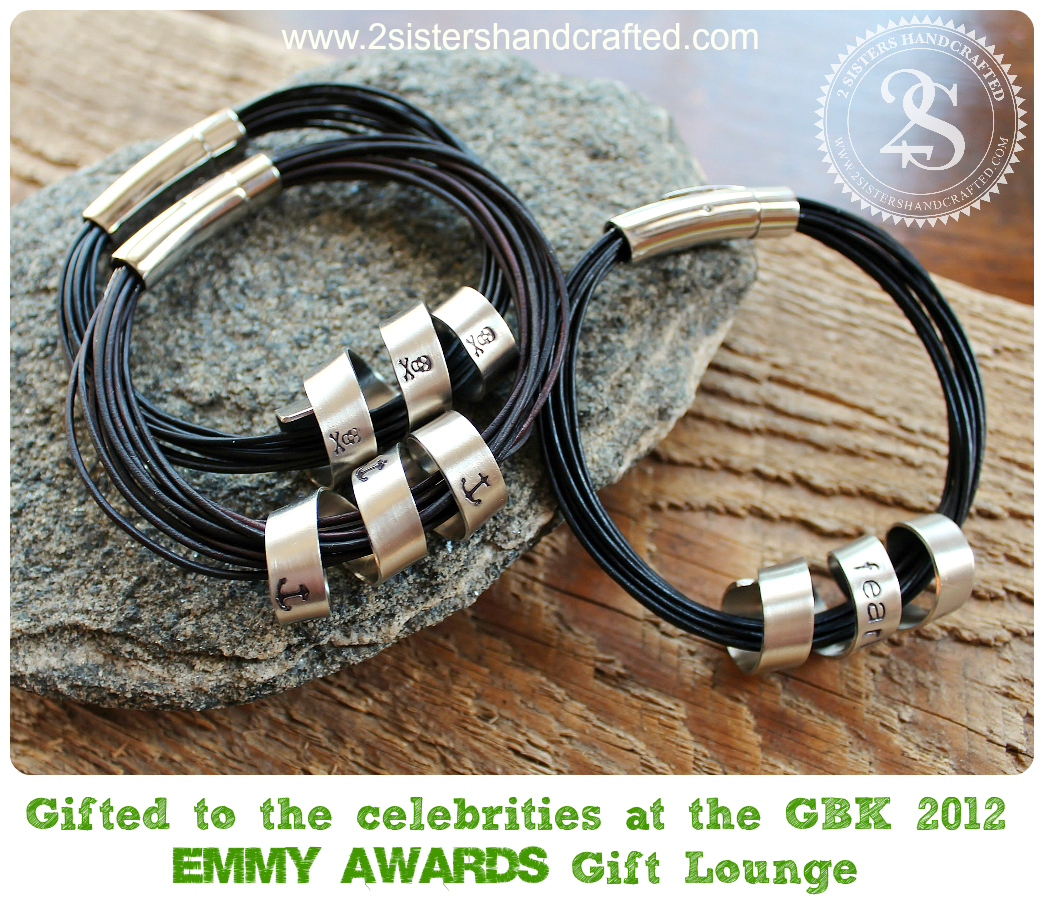 Well I wasn't really there although I sure wish I was. But My hand stamped secret message spinner bracelets were!
I became a member of The Artisan Group early this year. The group is made up of hundreds of like minded artisan who make a variety of handcrafted products with incredible talent. We support each other to help our businesses grow, offering support, suggestions and knowledge we may have to share in a positive way. It is because of this group that the opportunity to participate in the official GBK 2012 Emmy Awards Gifting Lounge came about.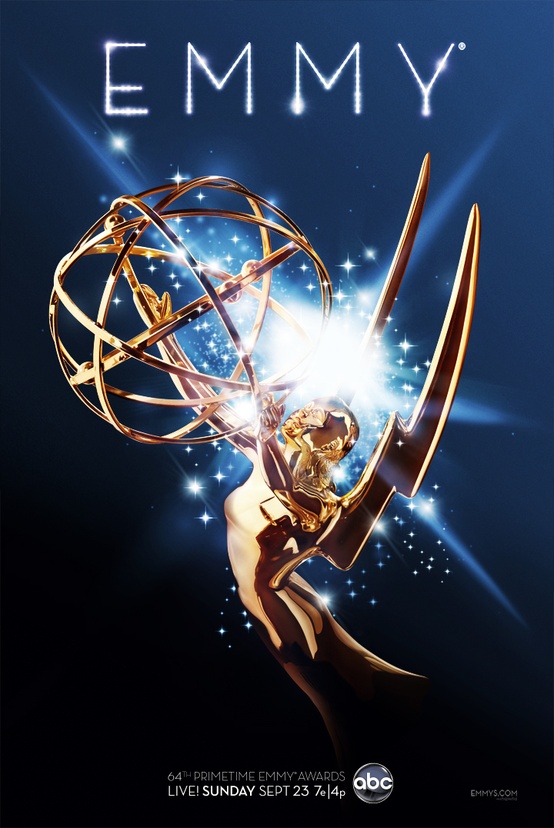 It's incredibly exciting to find out you will be participating in such a prestigious event but the thrill quickly turns to panic when you realise you will be making 100 pieces that will be received by celebrities. Many things are taken into consideration such as cost of materials, what will have a big enough impact to make your piece stand out among other incredible art, packaging restraints, information included in your package to get your business found, the time involved in making that many pieces, promotion of your participation.... Really, you mind doesn't stop racing from one idea to another detail until things are finally packed, boxed and shipped to the co-coordinators. Even then you don't dare breath a sigh of relief until your package has been confirmed to have arrived safe and sound!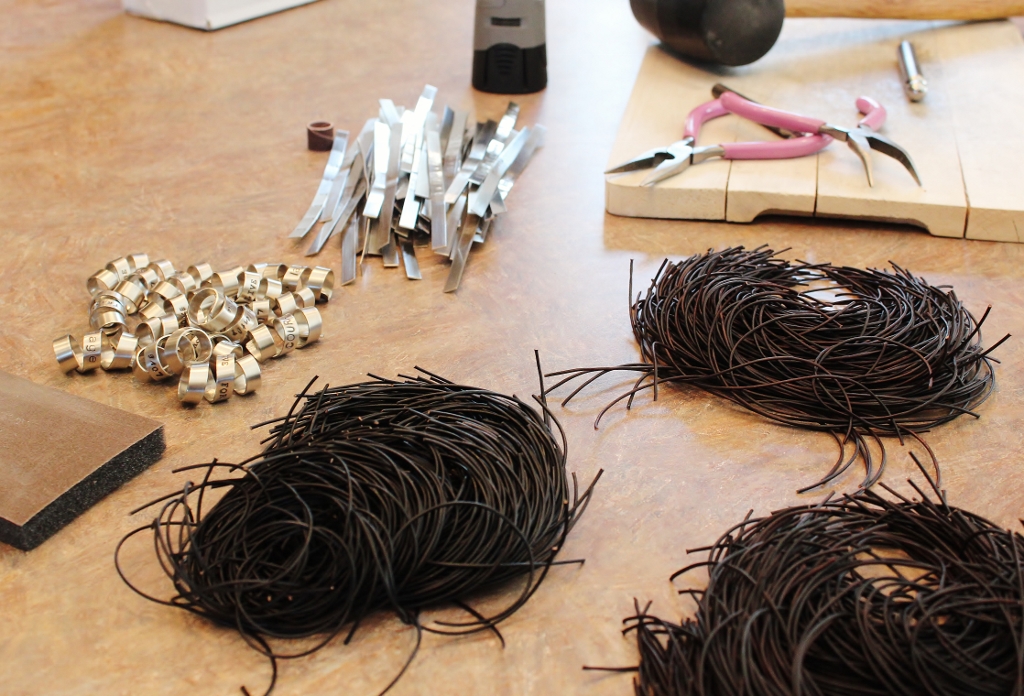 A view of work in progress for the Emmy Award pieces. (Yes, that's my kitchen counter!) This was a great place for me to be able to spread out my work and create an assembly line of sorts.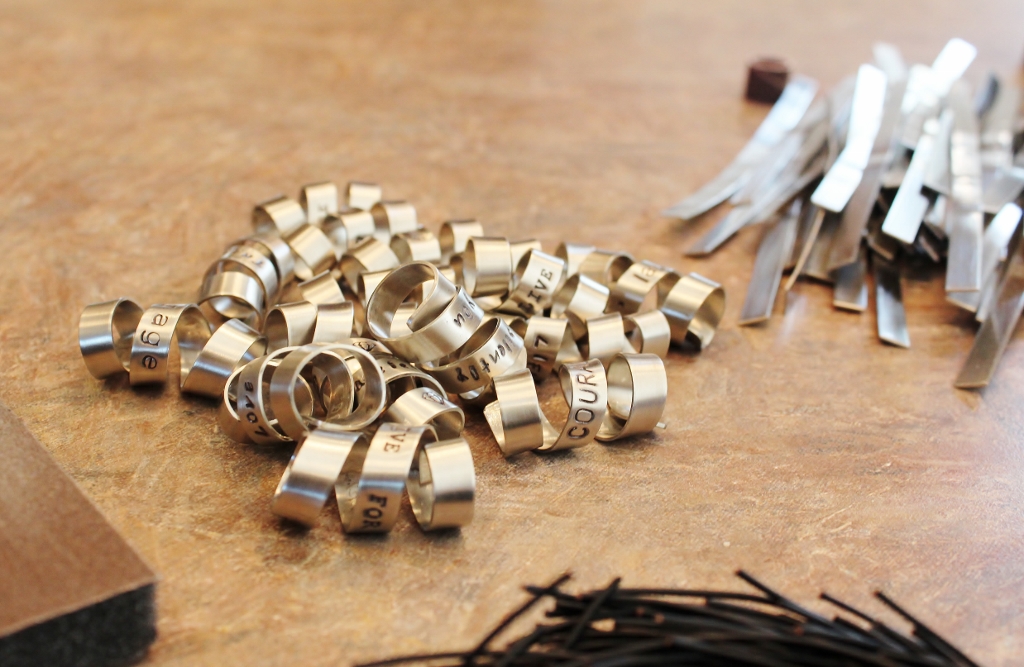 Secret messages are being stamped, oxidized and wrapped ready to add to the leather bracelet.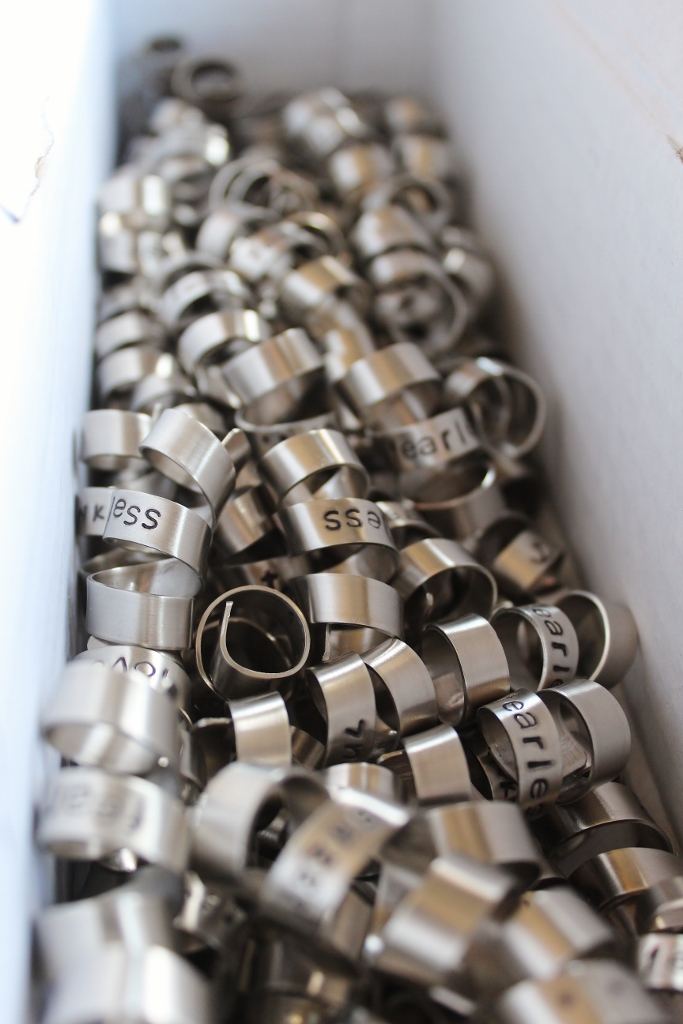 Yes, that's 100 spinner message charms! This took me 2 full days to complete just this step alone. I make sure the message is centered both top and bottom as well as from side to side. This means I find the center of the piece and the message and stamp from the center out.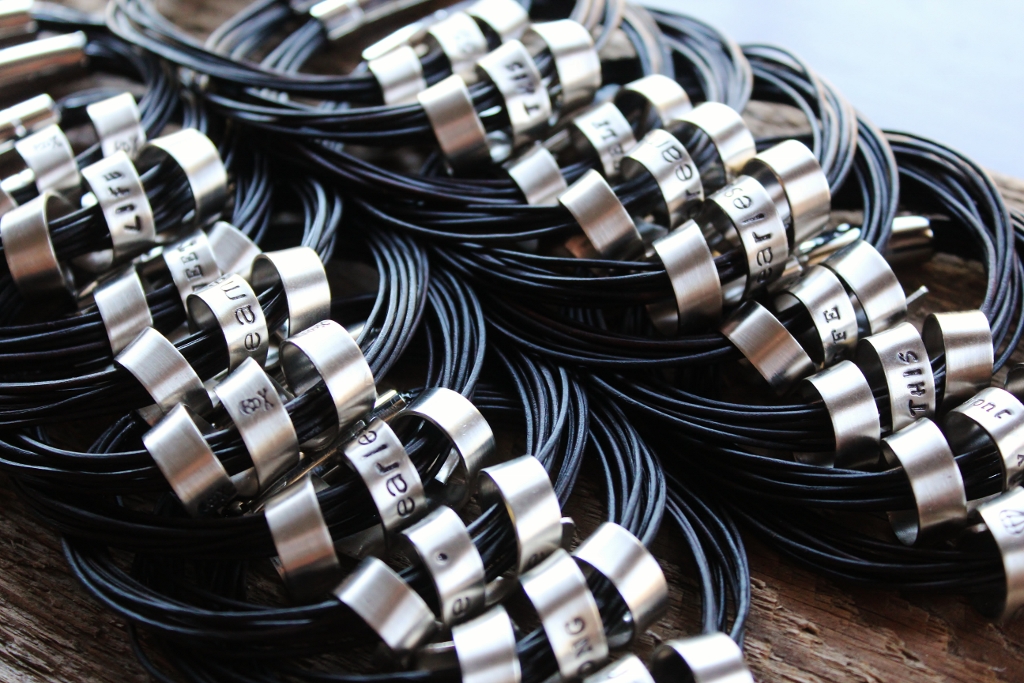 A view of what just a few of these guys look like after they are wrapped, added to leather and completed with a heavy duty awesome snap clasp. I made a variety of different secret messages, some inspirational, some cheeky, and some with a series of design stamps half of them were on naturally died high end black leather and the other half with an antique brown leather of the same stunning quality.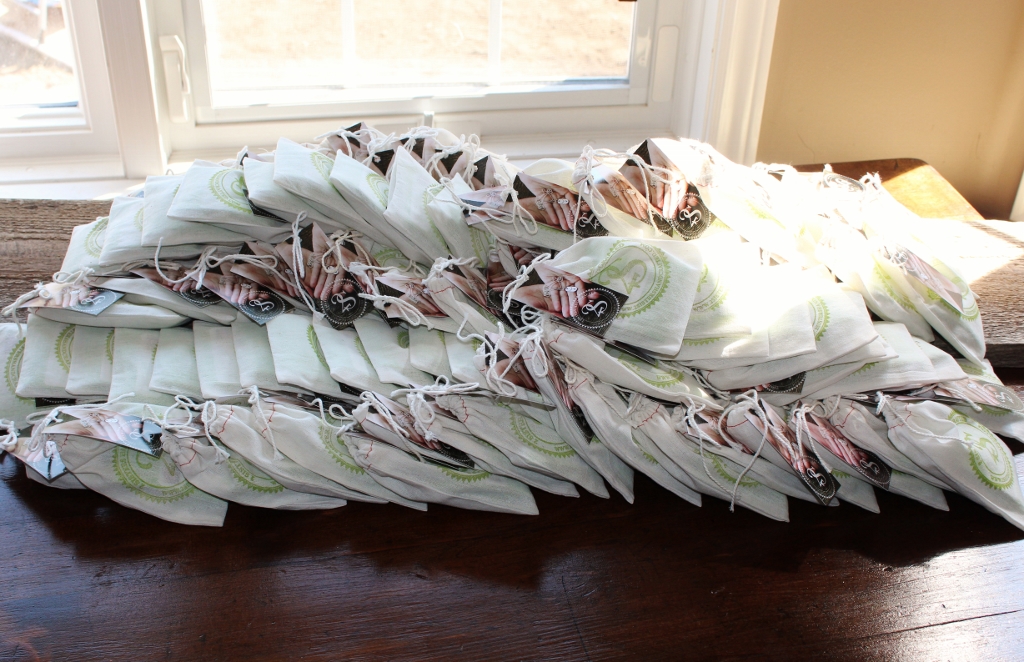 Each bracelet is given the royal treatment. It's been wrapped in my signature green tissue and placed in a cotton drawstring bag that I have hand stamped with my custom logo stamp again in my signature 2 Sisters Handcrafted green. Inside the bag I include a round info/biography card to let the recipient know about me, my shop and how it all began along with a business card. Finally I add a mini product card to the drawstring when closing the bag to add interest and a quick view of what may be inside. Now it's time to package them up safely in a box and ship to California. Time to cross out fingers and hope it arrives on time and in one piece! Phew, hard parts done.
Now I promote my participation in various ways and wait for the big day. The Artisan Group table at the GBK 2012 Emmy Awards gifting lounge was a huge success!! Many celebrities received gift bags packed full of fantastic handcrafted goods. Many even took the time to pose with some of the pieces that were on display. And even a few took the time to thank me and other artisans for our gifts and hard work!
To view the celebrities who received one of these gift bags at the 2012 GBK Emmy Awards gifting lounge, please follow this link
http://pinterest.com/2SistersJewelry/celebrities-from-the-2012-emmy-awards-who-received/
As for what's next? Well The Country Music Awards are about to take place next month and in association with The Artisan Group once again, 2 Sisters Handcrafted will be gifting at the official CMA gift lounge. The pieces are completed and in California, just waiting to be transported to Nashville for the big event. Visit again for behind the scene details on the CMA's and other great opportunities for 2 Sisters Handcrafted.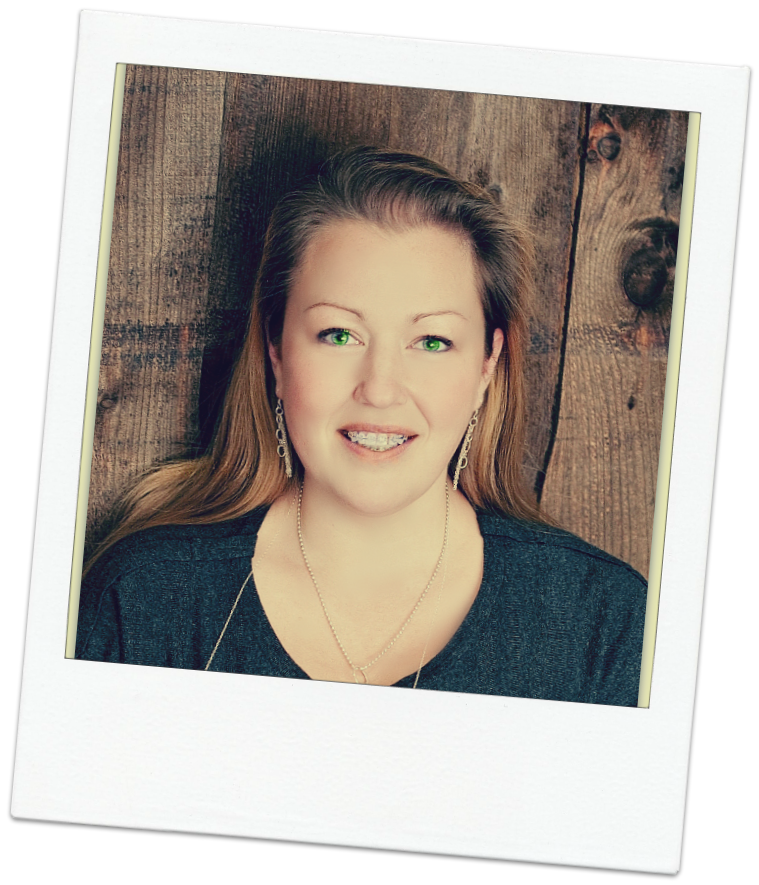 Join me, Colleen, on my journey.